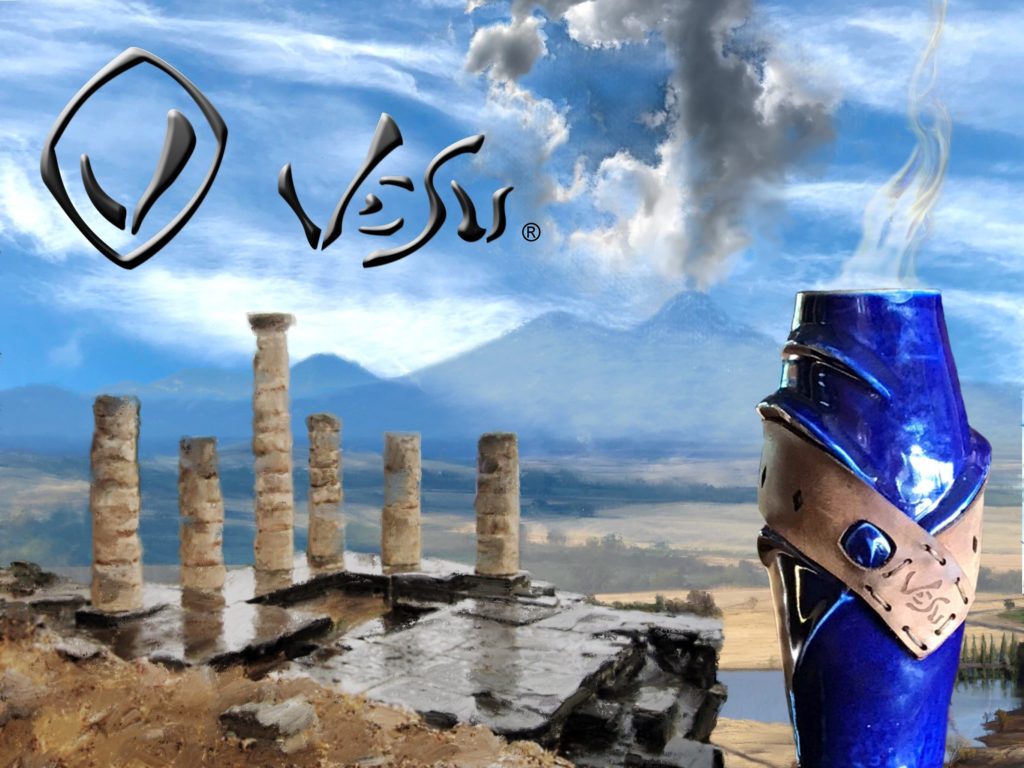 Vesu is a specialized ceramic travel mug, from artist Dayton Claudio. It comes in a variety of color schemes and is handmade with all-natural and sustainable materials. Vesu is inspired by ancient amphora vessels and shaped by the demands of the modern world.
Vesu mug
Vesu mug is a specialized ceramic travel mugs, from artist Dayton Claudio. They come in a variety of color schemes and are handmade with all-natural and sustainable materials.
Materials
CERAMIC:

These ceramic travel mugs are slip cast from Stoneware and fired to 2,200*F (1200*C) Glazes are food safe. The artistic mug is microwave and dishwasher safe.

CORK:

Vesu's corks come from the bark of Cork Oak trees in Portugal. The harvesting process is sustainable as just enough bark is taken from each tree once every 9 years so that the tree remains living and healthy. Cork is good to 300 *F (149*C) so it is dishwasher safe.

LEATHER:

Oil tanned natural cowhide. This leather is tough and pliable. The cuffs are laser cut and hand sewn. They mold to these custom ceramic travel mugs contours for a perfect fit. Hand wipe recommended. They will survive the dishwasher but this will create more wear. For a better custom fit of your new Vesu, we recommend that you run the leather through a rinse cycle in the dishwasher, snug it onto your mug and let air dry. After this you are good to go.

Environment

These unique travel mugs are sustainable with very low impact on the environment. The manufacturing process requires very little energy and does not produce toxins. All the raw materials come from the Earth and will return to the Earth.

Cleanliness

Vesu stoneware mugs are a clean, open container system. There are no hidden pockets to trap liquid where molds can grow. Most coffee travel mugs have areas in the lid and closure mechanism that cannot be entirely cleaned. Vesu is open and simple allowing all surfaces to be exposed to air and light and dishwasher sanitization. Plus, ceramic is highly resistant to staining and flavor residue and does not react to acidity. This provides a clean cup that delivers a pure drinking experience for any beverage, hot or cold.

History

Ceramic ware dates back to 24,000 BC, one of the most ancient human technologies on the planet. From the beginning it has always been a perfect fusion of art and function. Amphora vessels are one of the inspirations for Vesu. They were used throughout the Ancient Mediterranean World to transport and store food products. A tapered cylinder, it is an inherently strong shape. Amphorae are still being discovered today at archaeological sites, some still intact. Your ceramic travel coffee mug will be around long after steel and plastics have disintegrated.

Form and Function

Vesu was sculpted to fit the natural grip of the hand. There are at least a dozen different grasping positions, right and left, to accommodate various placements of the ceramic travel mug in your car and individual preference. Cup holders and travel mugs are still co-evolving in size and configuration. Not all travel mugs fit all holders. Vesu is slightly smaller in diameter so it should fit any holder size.

$ave

Refill your Vesu at most coffee shops or drive-thru's and get a discount on your drink. Avoid another throw away.
These awesome coffee mugs are available in retail stores and you can buy these coffee mugs online. Look for Vesu while doing your coffee cup online shopping.
Fill the form to speak to the artist, Dayton Claudio.